Official Hotels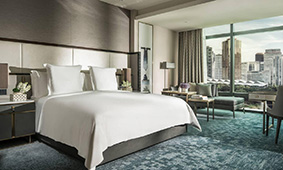 Warm, modern interiors overlooking the Kuala Lumpur's bustling cityscape and lush green KLCC Park, our 209 guest rooms and suites, as well as 27 serviced apartments, feature soundproofing design, in-room temperature controls and our Four Seasons Signature Bed, making each room a true sleeping sanctuary.
Rate from: RM675+
Address: 145, Jalan Ampang 50450 Kuala Lumpur ,Malaysia
Tel: +603 2382 8788
---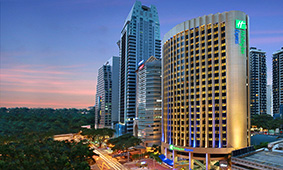 Discovering and choosing Holiday Inn Express Kuala Lumpur City Centre is emerged as the smartest choice for those on the lookout for both convenience and comfort – it is located at Jalan Raja Chulan, which is the base point of Kuala Lumpur's lifestyle and entertainment hub tagged as the city's "Golden Triangle".
Rate from: RM266.80+
Address: 84, Jalan Raja Chulan, Kuala Lumpur, 50200 Kuala Lumpur, Wilayah Persekutuan Kuala Lumpur, Malaysia
Tel: +60 3-2028 8888
Email:rsvn.kulcc@ihg.com
---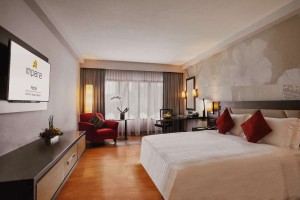 Impiana KLCC Hotel, Kuala Lumpur is nestled right in the heart of the Kuala Lumpur (KL) City Centre. Its ideal location makes it perfect for convention delegates as it is just right opposite the Kuala Lumpur Convention Centre with convenient walkways via the pedestrian bridge, as well as easy access to Aquaria KLCC, Suria KLCC ShoppingMall and the iconic Petronas Twin Towers.
Rate from: 350.00nett
Address: Impiana Klcc Hotel & Spa, 13, Jalan Pinang, Kuala Lumpur, 50450 Kuala Lumpur, 馬來西亞
Tel: +60 3-2147 1111
---
Travel Information
Getting to KLCC
By Road
If you are in a taxi or a chauffeured car, approach the Centre along Jalan Pinang and turn left into the Main Entrance (second turn after the Mandarin Oriental Hotel) for drop off.
By Train
Take the Light Rail Transit (LRT), Kelana Jaya Line and disembark at the KLCC Station. Turn left after exiting the turnstiles and walk through the Suria KLCC shopping centre Concourse level to the Centre Court. Turn left and make your way past Cold Storage to the Guardian Pharmacy where there is a covered walkway through to the Centre. Take the elevator to the Ground Floor where you will be directed to the Registration area.
For more information, please visit: http://www.klccconventioncentre.com/Getting_to_the_Centre-@-Overview.aspx
Navigation