Ocean Stars Underwater Photo Gallery (Taiwan) is Now Calling for Talented Photographers!
2022-01-03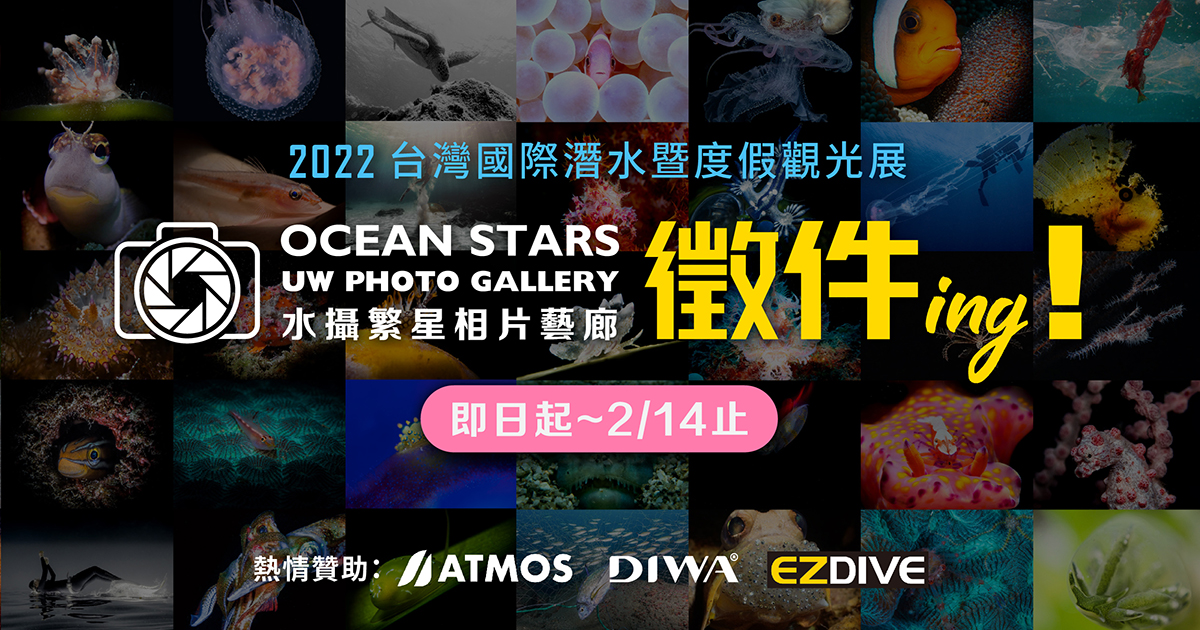 To promote underwater photography and beauty and to advocate the importance of marine conservation in Taiwan, DRT SHOW Taiwan 2022 is now calling for talented photographers to join the "Ocean Stars Underwater Photo Gallery." Photographers can submit underwater photos taken in Taiwan from 2020 to 2022 online before February 14, 2022. Selected photos will be exhibited at DRT SHOW Taiwan 2022 dated March 11th to 13th and all nominated photographers will compete for the "Best Popular Award."
This activity aims to support underwater photography art. Anyone who has a passion for underwater photography is welcome to submit your works! Nominated photographers can not only have their photos exhibited during DRT SHOW Taiwan 2022 but receive a gift, a personal admission badge, and VIP tickets for inviting their family and friends to participate in this event prepared by the organizer.
Please refer to the description below for submission guideline. The submission link is attached at the end of this article.
Submission Guideline
Regardless of age and nationality, all photographers can participate.
Photos must be taken in Taiwan from 2020 to 2022.
No category limitations. Wide-angle, macro, portrait, etc. are all eligible.
Each participant can only submit 2 photos or less.
At least 16 megapixels resolution (4:3 ratio). Both landscape and portrait orientation are eligible.
No watermark.

Behaviors regarding touching or disturbing the marine lives are strictly prohibited. Photos taken with the behaviors mentioned above will be struck off.
​
Schedule
Submission Deadline: February 14th, 2022.
Nomination Announcement: Nominated photos will be announced at DRT SHOW Taiwan Facebook Fan page at the end of February 2022.
Submission link
Click here to submit your works! (gmail account reauired)
>> For any inquiries regarding "Ocean Stars Underwater Photo Gallery 2022", please feel free to drop a message at DRT SHOW Taiwan Facebook Fan page.
Facebook: www.facebook.com/DRTShowTW
Instagram: www.instagram.com/drtshowtaiwan
Rewind
Nominated Photos of Ocean Stars Underwater Photo Gallery (Taiwan) 2021
---

Event Name: Diving Resort Travel Expo Taiwan (DRT SHOW Taiwan 2022)
Date: Friday to Sunday, March 11th to March 13th, 2022
Time: 10:00am to 6:00pm
Venue: Taipei Flora Expo Dome, Taipei, Taiwan
Admission Fee: One-day ticket NT$200 (Orignal price)
Official website: www.drtexpo.com/taiwan